Stars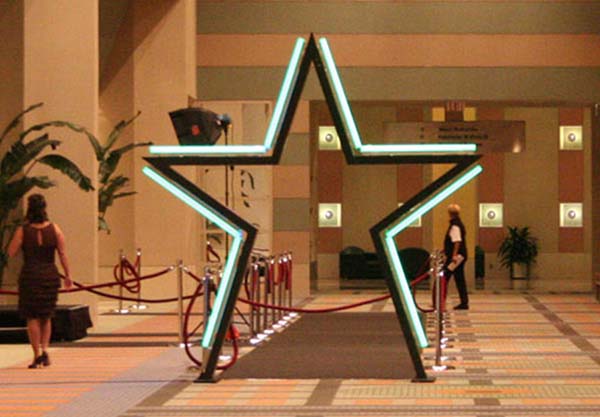 Specifications: The LED Star is a metal framed arch with LED tubes and their controller attached. The White Stars are wooden framed and painted white.
Width: LED Star 10' Wide. White Stars 13' - 7'' Wide
Height: LED Star 10' - 2'' Tall. White Stars 11' - 9'' Tall.
Number of Pieces: 1 LED Star and 3 White Stars.
CS&L's LED Star makes a perfect Awards Night Entryway to celebrate all the attendees for the Awards Night Presentation. This star can also be placed onstage and controlled by the main light board via DMX. The White Stars are usually added to the stage of a business meeting just for the award night celebration, making a dramatic photo op background for the evening's festivities. These stars allow the producer to dramatically change a regular business environment to a special event in a cost effective manner without changing the set, so you may return to a regular business set in the morning.